Authentic Ayurveda and Other Ancient Revivals
---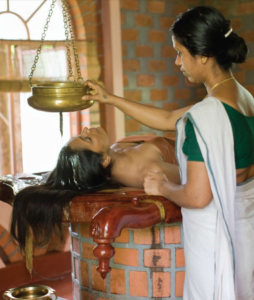 Spas have always broadcast the ancient pedigrees of their healing practices, whether hydrotherapy circuits originating in ancient Rome or millennia-old yoga traditions. Too often, however, a "lite" version got served up (a few Ayurvedic touches here, a steam room dubbed a "hammam" there). And, typically, all this venerable ancientness got played out in a modern, blandly beige space.
Change is coming: Expect more aggressively authentic and comprehensively executed global wellness experiences—a distinctly "ancient" look, feel and language, and a more expansive, exotic menu of wellness traditions explored—at spas.
FUELING THE TREND
Spa-going has become mainstream, and while many people have now experienced a handful of wellness traditions (Thai massage, yoga, etc.), they want more, and they also want to dive further into them. As industries mature, services and products always proliferate and become deeper and more serious.
This desire for more authentic, ancient wellness has also been quickened by our Internet Age, which has made a World Wide Web of traditions instantly explorable.
The rise of a global diaspora of Chinese, Korean, Indian, Thai and Eastern European, etc. populations means these traditions can be more readily, meaningfully executed.
While this trend dovetails with the "indigenous" spa trend SpaFinder Wellness named for 2011, it's not confined to the "local"—it's as much about global exportation, and experiencing traditions "everywhere."
MORE "PRESERVATIONIST" AYURVEDA
No better example of the trend exists than what's happening with 3,500-year-old, Indian-born Ayurveda. Derived from the Sanskrit words, "Ayus," meaning life, and "Veda," meaning knowledge, Ayurveda is a complex, holistic system of medicine and a complete philosophy of healthy living. Ayurvedic doctors identify imbalances in a person's "doshas" and prescribe a personalized, detoxing and rebalancing regime of diet change, exercise like yoga (based on a person's "prakti," or constitution), mental discipline regimes like meditation, healthy sleep, regular massage and herbal medicine.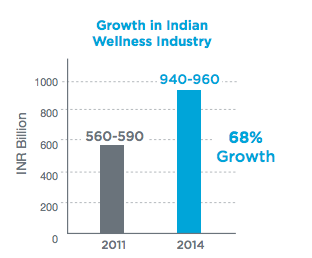 High-profile advocates like Deepak Chopra, and high-profile collaborations between Ayurvedic organizations and esteemed western medical centers like the National Institutes of Health, have helped fuel Ayurveda's growing popularity. And, most critically, it's the growing acceptance in the global medical community (and by more people generally) that the mindbody link—and preventative health approaches like a better diet, more exercise and less stress—are the keys to forestalling disease and true wellbeing.
But while authentic Ayurvedic medicine integrates the numerous components listed above, it's often consumed outside India in piecemeal form: as yoga and/or meditation, or in relaxing (photogenic) treatments like shirodhara, the pouring of oils on the forehead.
Now look for deeper, more authentic programs, overseen by Ayurvedic doctors to take off, both at new Indian spas and worldwide. Expect more programs with the whole Ayurvedic "package": pulse and dosha analysis by a qualified practitioner; Panchakarma, a multi-week detox; dietary recommendations and coaching (so people can make healthier eating a daily reality); and mind-focused "Satwa Vajaya" approaches, like yoga and meditation, that strengthen what we in the West call willpower.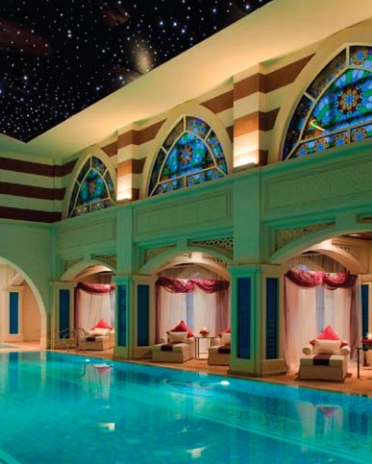 We use the word "authentic" throughout this trend with caution. After all, it's always a hotly contested concept and ever-moving target, given the unerasable forces of history and globalization. For example, Maharishi Ayurveda, forged in 1980, and the system behind highly regarded, intensive Ayurvedic centers like The Raj (Iowa, U.S.) or Bad Ems (Germany), was once accused of being "Flower Power Ayurveda" softened for the West. Perhaps it's better to state that more new programs will strive to "preserve" Ayurvedic medicine in its original form.
India's government is putting muscle behind its wellness tourism (clocking 22 percent growth annually1 ), and with Ayurveda a campaign centerpiece, more people will travel to experience the "real deal" in its homeland. World-renowned Ayurvedic players like Ananda in the Himalayas and Soukya have attracted international guests for years (Camilla ParkerBowles is a long-time Soukya patient). And now, more new, luxe Indian spa resorts will continue to make these more hardcore programs (involving distinctly un-pampering elements like purgatives) help the "medicine" go down.
Examples: The new Banyan Tree Spa Kerala houses the brand's first doctor-led Ayurvedic Centre. Iconic Indian hotel brand Taj is busy opening Jiva Grande spas at properties like Taj Madikeri (India) or Taj Exotica (Maldives) with elaborate, "purist" Ayurvedic menus. Bangalore-based hospitality group Windflower Resorts & Spa is opening projects like its highend Kasaragod property for those seeking Ayurvedic medicine in a spa environment.
Watch for the opening of Vana in 2013, a stunning 21-acre wellness and Ayurvedic destination set in the Himalayan forest. With Vana's team of doctors, 7-, 14- and 21-day Panchakarma detox programs and rich spa menu, it's poised to quickly become not only the most talked about new star in the Ayurvedic world, but also one of the most talked about destinations on the destination spa scene, period.
More authentic Ayurveda is also rising worldwide…
Examples: Mandarin Oriental properties like Chang Mai (Thailand) and the new Galo Resort Sport Hotel's (Madeira) Ayurveda Cure Center. Even day spas are part of the trend, like London's Ayurveda Pura, with its Panchakarma retreats (featuring Ayurvedic meals, herbal medicine, daily massage and personalized yoga and mediation classes.) It also runs an academy that trains practitioners.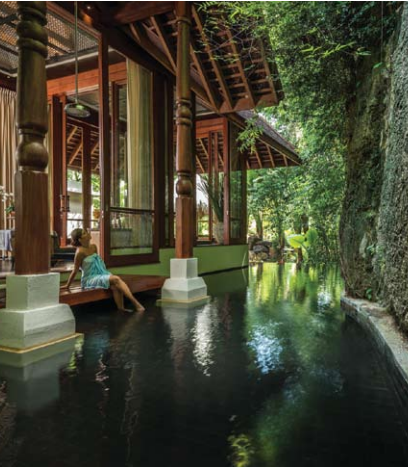 And in general, we'll see more spas incorporating Ayurvedic elements/treatments, which can be valuable even if they're not full-blown medical programs. A couple examples: the brand-new Gstaad Alpina Hotel and Spa (Switzerland) with its Ayurveda room, and the Thann Sanctuary Spa at the Castle Hotel & Spa (New York, opening 2013) showcasing Ayurvedic massages.
OTHER ACCENTS ON THE ANCIENT
Ayurveda is but one "ancient" that will experience a strong revival. Look for more authentic Roman and Turkish baths, Russian banyas, Traditional Chinese Medicine (TCM) and Nordic offerings…and some novel healing traditions sure to be new to us all, in spaces with unique, "ancient-hip" designs, or built on ancient spa sites or within reclaimed historic buildings. The trend towards adaptive reuse with new spa properties (i.e., more popping up in historic buildings), is not only generally cost-effective and more environmentally sound, it resonates with a spa-going demographic that embraces cultural, experiential travel and hyper-local experiences.
The new Aire Ancient Baths (Manhattan) epitomizes "the new Roman" with its ancient design cues like candlelit interiors dominated by Romanesque columns and an authentic tepidarium through frigidarium circuit. (Aire also runs three Arabic baths in Spain, with Aire de Almeria built on the site of a 15th-century Arabic souk.) At the sleek, new Spa Museum, Nun Assisi Relais (Italy) a Roman bath circuit is dug deep within a former first-century Roman amphitheater.
More traditional Russian banyas (with their invigorating, birch-twig-thwacking venik experiences) are opening, like Bear and Birch (New Jersey) or the new Archimedes Banya (San Francisco), which is essentially a "multicultural" East/ West bathing mecca.
The hammam trend SpaFinder Wellness identified a couple years back is exploding. Roughly one in three of the top, new global spas gracing Condé Nast Traveler's "2012 Spa Hot List" showcase a serious hammam, from Caudalie Vinotherapie Spa at L'and Vineyards Resort (Portugal) to ESPA at the Resorts World Sentosa in Singapore (the country's first). Another bright new Turkish bath star: the massive Talise Ottoman Spa (UAE), with design dripping "Ottoman Empire at its height." As well, Moroccan traditions are not being forgotten. Just one example: London's suave, new Spa at Dolphin Square specializing in authentic Moroccan hammam and rhassoul rituals.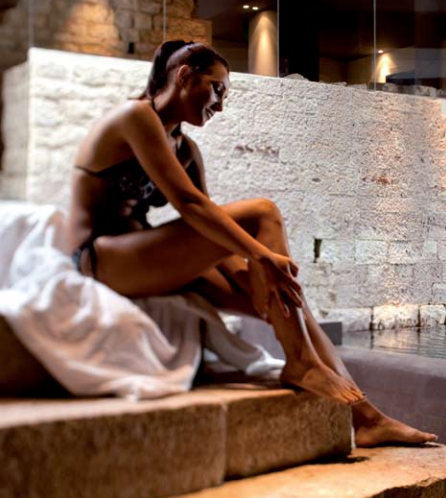 More authentic TCM at spas is happening, at properties like Mandarin Oriental's Hainan and Sanya (China) resorts (with their onsite TCM doctors), or at LeFay Resort & Spa (Italy). And Scandinavian approaches are getting some new ancientbased rethinks, like the new Liv Nordic brand with its wellness experiences expressly based on "Nordic culture."
More ancient healing systems from every corner of the globe will increasingly get explored. For instance, Brazil's exclusive, new Botanique Hotel & Spa, the first "100 percent Brazilian spa," is centered on Afro-Brazilian and Native Indian healing rituals. At the So Spa at Sofitel's Old Cataract Hotel (Egypt), Nubian massages are the star, while at the Kerry Hotel Spa (Shanghai), massages based on the ancient Chinese martial art, wudung wushu, take the spotlight.
Ancient and historically authentic…it's the new spa-modern.
TOP 10 SPA & WELLNESS TRENDS FOR 2013
MORE SPA & WELLNESS TRENDS