Earthing
---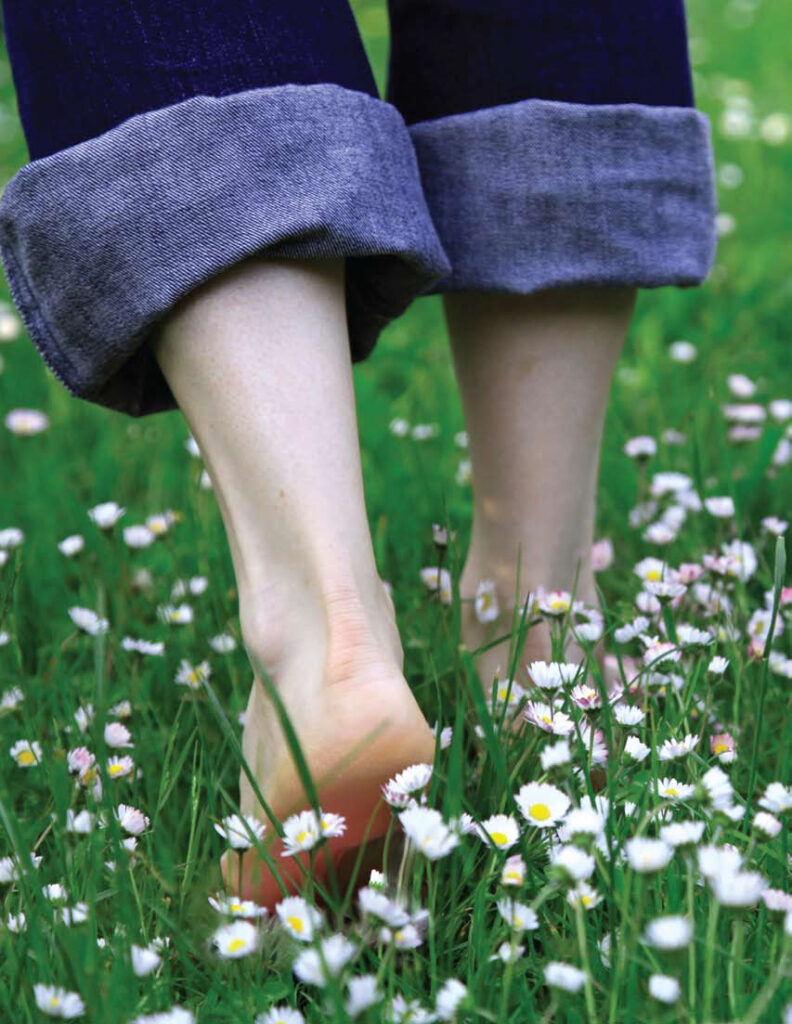 Experts point out that human brains and bodies evolved to thrive in natural environments: to chase and be chased, to work the earth, and so on. Now, relatively suddenly, most people are severely disconnected from nature, living in concrete jungles and spending their lives in front of various screens. The fallout: "Nature Deficit Disorder,"¹ a term describing a range of physical and emotional ailments afflicting people cut off from the natural world.
"Earthing" specifically refers to the movement² promoting direct contact with the earth's electron-rich surface (walking barefoot, etc.) as foundational for health. The claim: "grounding" the body to the earth's surface stabilizes our natural electrical rhythms and reduces disease-causing inflammation, while also providing pain relief, fostering healthy sleep and serving as a natural blood thinner (good for the heart).
While we anticipate more of the practice/language of "earthing" at spas, we expect to see far more "nature grounding" in its wider, more metaphorical sense. Spas are busy devising creative, soul-stirring ways to re-immerse clients in nature: from magical treetop massages, to "tented" spas erected in raw wilderness. Think: less piped-in nature sounds, and more real nature.
FUELING THE TREND
Growing medical evidence indicates that getting out in nature, and synched up with natural cycles, doesn't just deliver spiritual benefits, but also keeps our brains, bodies and nervous systems in working order. For instance, sunlight-provided Vitamin D is necessary for brain health, and our sleep and other circadian rhythms depend on the natural light of day and darkness of night.
The world is experiencing the largest global exodus from rural areas to cities in history. In 2008, for the first time, more than half the world population became city/town dwellers. And by 2013, the number will skyrocket to 5 billion people³ geographically cut off from nature.
With people working longer hours than ever, and new, digital technologies defining every aspect of our lives, we are tethered to cell phones, computers and tablets almost every waking hour, and flooded with (stressful) information.
AL FRESCO TREATMENTS
If spa and fitness experiences have typically been staged in windowless rooms, now they're being pushed "out" into the great outdoors. Poolside, in-the-forest and on-the-beach massages/treatments are surging. And far more "stay" spas are offering nature outings like hiking, rafting and horseback riding—or just some simple stargazing. Outdoor fitness is also on the rise at both spas and gyms, from boot camps to outdoor equipment and circuits.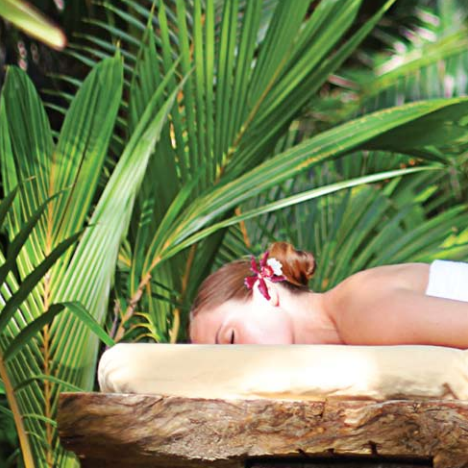 The examples are endless. More spa resorts (climate permitting) are taking an inside-out approach to design, like Maradiva Villas (Mauritius), where the walls between the guest rooms and spa and the outdoors dissolve, or at Sublime Samana (Dominican Republic), where the beach spa is seamlessly woven into the natural environment. Far more spas are offering al fresco yoga, like the new Sarana Spa at the Sharon Hotel's (Israel) beachfront classes, or Isla Palenque resort's (Panama) jungle yoga and fitness. And far more spas offer outdoor treatment gardens, like Monastero Santa Rosa Hotel & Spa (Italy). Rancho la Puerta (Mexico) has been a pioneer in keeping its guests close to the earth since it opened (1940), when people slept in tents. Today the accommodations are luxe, but the menu is packed with hikes and diverse outdoor exercise classes—and many guests opt to work the earth in their bountiful fruit and vegetable gardens.
Enchanting, rustic-chic new "treehouse" spas are a hot subtrend as well. A few examples: Tree Spa at Hidden Pond resort (Maine, U.S.), Petit Vincent (St. Vincent island) and the brand-new Salamander Resort & Spa (Virginia, U.S.). At Omni Amelia Island Plantation (Florida, U.S.) the up-in-the-trees trend is played out in their over-water yoga treehouse.
Consider the stunning ocean-nature immersions at the new Niyama Resort (Maldives) with its underwater lounge and floating restaurants, overwater and private garden spa treatments, its own marine biology lab, and group snorkeling trips enlightening guests about the underwater ecosystem.
The brand-new Ritz-Carlton Dorado Beach (Puerto Rico), one of the brand's 20 "Reserve" properties to be created in remote, unspoiled natural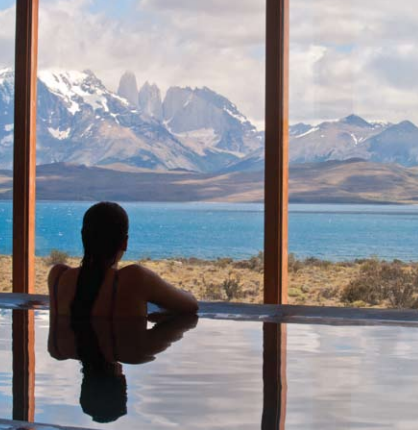 locales, hits numerous spa-nature design notes. Guestrooms feature floor-to-ceiling sliding doors opening onto the beach, and its Spa Botánica (located in a vast botanical sanctuary) includes glass-walled treatment rooms set in gardens, with out-in-the-wild showers and soaking tubs— and a treehouse, where treatments take place on a platform jutting out into the forest canopy.
Even the climate-challenged are getting creative with natureimmersive design. For instance, guests at Uma Spa at the Tierra Patagonia Hotel (Chile) can take in the awesome views of the glacier lake from the outdoor whirlpool ringed with glass to protect against the region's powerful winds.
URBAN NATURE
More urban day and hotel spas (that have their own logistical "nature-deficit") are working to get people out into fresh air. Consider the upcoming Parkroyal at Pickering hotel-spa-inan-urban-garden concept (Singapore), a high-rise nestled in 15,000 square meters of vegetation. In Manhattan, CLAY fitness/spa center has added a new yoga roof garden, while the new Red Door day spa just reopened in a new location with an expansive spa roof deck. There are also more rooftop gyms at urban hotels, like the new "Skycourt" at the Grand Hyatt Denver, featuring an outdoor jogging track.
Hotel spa design is also increasingly thrusting nature "in." Examples include the indoor vertical gardens at Westin properties or at the Fairmont Scottsdale Princess (Arizona, U.S.).
BAREFOOT SPAS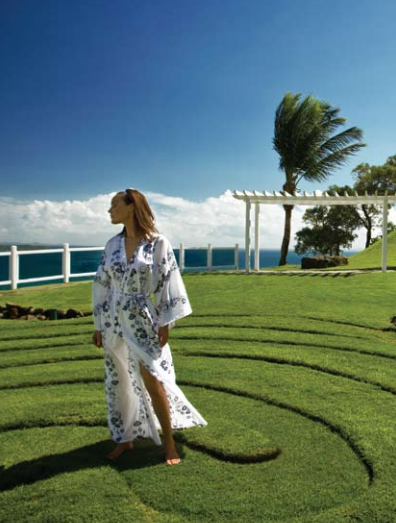 Expect more earthing-friendly "barefoot" spas, like the new El Secreto (Belize) or the soon-to-open Mukul (Nicaragua's first luxury spa hotel), and more "pro-earthing" experiences like the Golden Door Spa at El Conquistador Resort's (Puerto Rico) new barefoot, candlelit labyrinth meditation walks held during full moons. In addition, we'll see more all-inclusive "island without cash" concepts like Centara Grand Island Resort & Spa (Maldives)…because suddenly "no shoes, no money" is the new luxury.
RAW WILDERNESS SPAS
Look for more "pop-up" or tented spas like the just-opened The Moat (Wales), with its sauna tents and tree "cocoons" erected on the woodland moat of a 13th-century castle, or Four Seasons Tented Camp, Chiang Rai (Thailand), set in a bamboo jungle.
More spa resorts will offer wilderness safaris. At El Silencio Lodge and Spa (Costa Rica) each suite is assigned an "ecoconcierge" that leads excursions into the tropical cloud forest, where guests do tree planting and learn about the exotic wildlife. At Wolgan Valley Resort & Spa (Australia) wildlife safaris plunge guests into the property's 4,000 acres for some kangaroo and platypus spotting.
More spa resorts will continue to spring up in governmentprotected nature preserves, like O'Reilly's Lost World Spa (Queensland, AU), located in a World-Heritage-listed National Park. Four Seasons is a leader here: at their Resort Langkawi's Geo Spa (Malaysia), set in a UNESCO-protected Geopark, all experiences are devoted to "harnessing nature's energy," and there is tree-hut yoga, villas open to mangrove forests, and jungle treks led by staff naturalists. At their new Safari Lodge Serengeti, built in a Tanzanian national park, guests watch elephants drink from an active watering hole while swimming in the infinity pool.
DIGITAL DETOX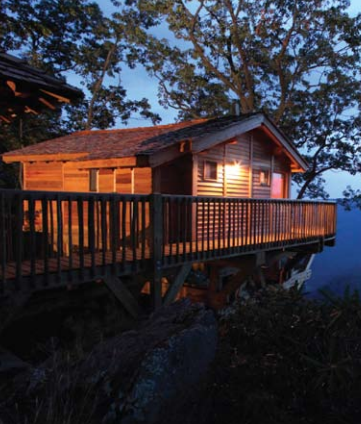 People are so overwhelmed by their 24/7 technology connections that "digital detox vacations" have been a trend for some time, as recently noted by Euromonitor.4 Hotels like The Westin in Dublin or The Quincy Hotel (Washington, D.C.) represent urban properties that have offered these "unplugged" respites. But properties report that people most successfully cut the cords when they throw themselves into intensive physical activities like nature hikes, yoga and frequent massages. And that's why "digital detoxing" is a rising trend specifically at spas and other fitness-focused hospitality businesses. For instance, "The Digital Detox" is a travel website that arranges trips to Californian hot springs and Costa Rican jungles, where people relinquish all their various "pods" with the help of an immersive program of yoga, meditation and hiking. And Via Yoga, which specializes in luxury surfing and yoga retreats in Mexico and Costa Rica, offers 15 percent off for guests that check their iPhones at the "door."
EXTREME SPA NATURE
Our extreme Nature Deficit Disorder also seems to be sparking some extreme spa and fitness "nature" concepts.
The "locavore" and "slow" food movements have been around, but a hot, new trend is foraging for the food you eat and the things you consume. (Proponents point out that humans began as gatherers—then became hunters/farmers—and then just passive consumers.) The foraging trend is just hitting spas, and these new scavenger hunts certainly make the "old" farmto-table trend feel tame.
Examples: at Umstead Hotel & Spa (North Carolina, U.S.) ice cream is made with guest-found pine needles, while at Sorrel River Ranch Resort & Spa (Utah, U.S.) 160 acres of wilderness are foraged for both food and spa treatment ingredients. Verana in Mexico's staff also grows or forages for all the raw ingredients in its treatments, from bananas to herbs.
And this "paleo" or "caveman" movement is hitting the fitness world. For instance, "wild fitness" holidays are rising, like Wildfitness™, which takes people to Kenya, Andalucía and the Isle of Wight to introduce them to "Wild Eating," "Wild Moving" and "Wild Living" programs, to restore their bodies/ minds to a more natural, "pre-processed" state.
Extreme spa-nature is being played out in design. For instance, Switzerland's Gstaad Palace now offers an "Igloo Experience," where guests stay/spa in a suite made of ice and snow set high in the Alps. At Wellness, Backstage Hotel Vernissage (Switzerland), extreme high-tech conjures nature: seven treatment "cubes" represent the seven days of earth's creation, and beach-and-sundeprived guests can loll on infrared-heated glass pearls while gazing up on a virtual "summer's day" sky.
Consider the eco-minded floating spa, "Floating Gardens," planned for a lake near Amsterdam in 2014, which will be coated in vegetation so that the spa "breathes oxygen." Another floating spa-hotel called Krystall is also in the works in Norway, and this ice-crystal-shaped, spa-and-wellness-packed "property" will drift among the fjords, and will be hyper-focused on sustainability.
From fresh-air fitness to foraging, look for this "earthing" trend to connect more spa-goers with Mother Nature in even more creative ways…in 2013 and beyond.
TOP 10 SPA & WELLNESS TRENDS FOR 2013
MORE SPA & WELLNESS TRENDS