Inclusive Wellness
---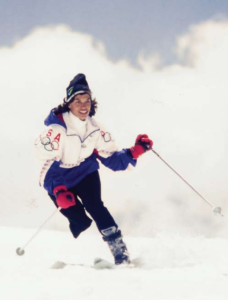 Over the last decade many new demographics have been warmly welcomed by spas: Baby Boomers, men, teens, little kids, the GLBT community—even babies. But while spas' original DNA is healing, with the exception of Europe, there has been precious little programming for (and communicating to) the growing ranks of people with disabilities—whether the one billion-plus individuals worldwide who are formally "disabled,"¹ or the many millions more who either are temporarily so, or experiencing the challenges that come with aging.
Change is coming (and it must). Given forces like a massively graying global population and a focus-shift at spas from exclusive pampering to delivering true, inclusive wellness, more spas (and fitness centers) will now get their own "disability act" together. In the future bodies that are welcomed at spas will align better with bodies found in the real world. More spas will modify facilities and equipment to accommodate people with physical limitations and other special needs, and more will help people heal and keep their bodies functional by offering pain-relieving, mobility-enhancing therapies and "functional fitness" programs to help real bodies cope with real-life activities.
FUELING THE TREND
People living with disabilities are the world's largest minority, representing one out of every 10 people worldwide (or 650 million people).²
The world is in the throes of an unprecedented, irreversible demographic transformation that will lead to older populations everywhere. The percentage of people over 60 is forecast to double between 2007 and 2050 (reaching two billion), while in most countries the number of people over 80 will quadruple.³ And developing nations are now aging fastest: By 2050 more than 40 percent of the Chinese and Brazilian populations will be over 60.4
It's great news that since 1970 men and women worldwide have gained over a decade of life expectancy, but as the important, new Global Burden of Disease Study details, it means people are spending far more years living with disability. The study reveals that for people who live to age 50, they spend only seven months of each added year in a healthy condition. People are (and increasingly will be), the report argues, challenged with living a much longer time with musculoskeletal pain, immobility, vision and hearing loss, mental disorders and substance abuse.
Social consciousness is rising, born of people with disabilities lobbying for more rights and better laws guaranteeing access to services worldwide—and inspiring, high-profile events like the 2012 London Paralympics, boldly redefining who a person with a disability is, and what they can do.
The medical evidence on how diverse spa approaches can help with many disabilities just keeps mounting, from a regular massage's positive impact on chronic pain; to improving strength in arthritis sufferers; to aquatic therapies' benefits for children with autism.
WIDER PARADIGM SHIFT IN THINKING ABOUT DISABILITY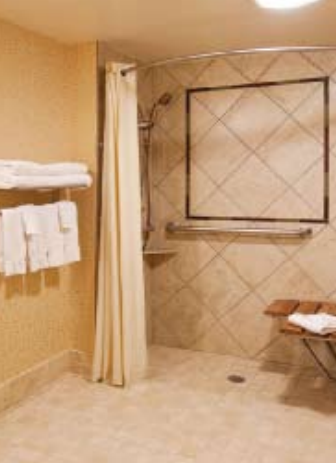 Cultural attitudes towards, and the laws that protect, people with disabilities vary widely worldwide. But language/"labels" and policies are undergoing a positive, global revision. European nations, where people with disabilities are encouraged to take spa health vacations often paid for by national health insurance, have long been the enlightened leaders, with strong antidiscrimination and right of access laws. Attitudes are shifting in places like China: 30 years ago people with disabilities were often called "can fei" or "the handicapped and useless," but that has thankfully been replaced with "can ji ren," or "people with disabilities."
In many more nations new legislation is mandating change, often reflecting the guidelines (on healthcare, right of access, housing and employment) put forth in the influential UN Convention on the "Rights of Persons with Disabilities" from 2006. For instance, new U.S. laws mandate that all swimming pools/areas (public, or at hotels, fitness clubs, spa resorts, etc.) be made fully accessible to people with disabilities—either by sloped entry or lift—by 2012.
The language is getting more flexible and inclusive: redefining disability as a state, rather than an "identity." For instance, the Americans with Disabilities Act (ADA) does not distinguish between type, severity or duration of the disability. Its definition: "A physical or mental impairment that substantially limits one or more of the major life activities of an individual."
"Disabled" is no longer a term/concept exclusively applied to people using wheelchairs or with vision or hearing impairments. It now spans cognitive, as well as physical conditions, which can be essentially "invisible," like arthritis or diabetes. And obesity is now the leading cause of disability worldwide.5
The fact: Nearly every one of us will have a disability at some point in our lives—whether from a lifelong condition, temporarily from a sports injury, a pregnancy, while recovering from treatments/surgery, or as we age. The Council on Disability Awareness reports that a typical, healthy, non-smoking, not-overweight 35-year-old has a roughly one-in-four chance of being disabled for three months or longer during his or her working career, with a 38 percent chance his or her disability will last five years-plus.
RETOOLING SPAS TO THE WORLD'S ACTUAL BODIES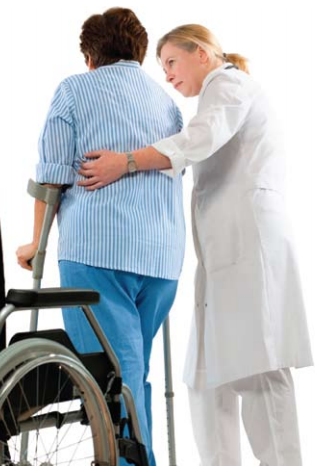 As the world's "body" will increasingly be one living with disabilities, spas, of course, have a major opportunity to deliver more restoration, recuperation, pain-alleviation, mobility enhancement, nutritional counseling/weight loss programs—and some simple touch and stress-relief to those who need it most. As a project leader6 on the Global Burden of Disease Study put it, "Progress in reducing disability just hasn't kept pace with progress in reducing mortality." The spa intersections are clear: For instance, lower back pain is responsible for 11 percent of all global disability.7
So, if too many online message boards have lit up with heartbreaking accounts of an individual with disabilities reporting he or she felt uncomfortable or not properly accommodated at a spa, now more (smart) spas will warmly welcome—and deliver wellness to—people of all abilities and age levels. More will rethink facilities, equipment, programming and staffing to meet an increasingly mainstream, not niche, population. You might say that if European countries have been out in front (where spas' identity has always been health and wellness), there will be more "Europeanization" of industry attitudes and approaches globally.
Progress is underway: In a recent SpaFinder Wellness survey of global spas8 , 80 percent reported they had an accessible entrance; 50 percent said they had at least some special equipment/interior facility design; and 43 percent reported they had a therapist(s) with special training for the needs of people with disabilities. (A much smaller eight percent reported they conduct any communications/marketing outreach for this population, but given that disabilities span spa specialties like chronic pain and weight problems, this should change.)
BETTER ACCESS/EQUIPMENT
More spas will provide comprehensive access for clients using wheelchairs or with serious mobility issues, including:
Extra-wide doorways and hallways
Hydraulic treatment beds and chairs that can be lowered and raised
Elevators between floors, ramps instead of steps, and handrails
Roll-in showers, saunas and shower chairs
And, for "stay" spas, more mechanized/hydraulic pool and whirlpool lifts, or sloping ramps into pools, that enable people to easily get in and out of the healing waters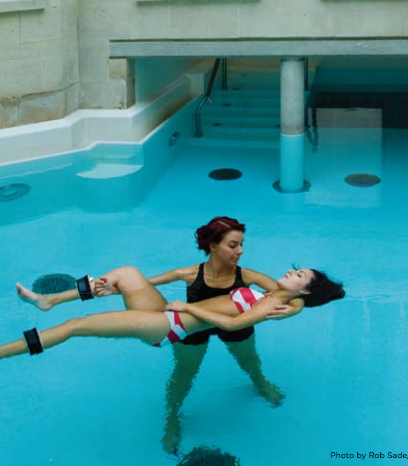 A few examples of forward-thinking spas incorporating these adaptive "disability-friendly" features: Disney's Grand Californian Hotel & Spa, Chateau, Mont Tremblant (Quebec), Thermae Bath Spa (U.K.), Spa Eastman (Montreal) and global Ritz-Carlton and Fairmont properties. Spa of the Rockies at Glenwood Hot Springs (Colorado, U.S.) integrates all of the above and has added thoughtful amenities/programs like hydraulic lifts for hot springs pools that can be useroperated, so guests don't need to ask for assistance—and specials discount days for (the many) military personnel with disabilities.
More fitness centers, like the new brand, Pure Club Med Gym (Paris-based), will be designed for inclusivity—ensuring that people who use wheelchairs or have mobility issues have complete access to all workout equipment, showers and saunas.
And because so much really hinges on trained staff with a welcoming, ready-to-assist attitude, more spas like Rancho La Puerta (Mexico) will specially coordinate visits/treatments and assign dedicated people for those who need extra help with their stay/visit.
There will be new industry services and platforms. Example: the new "Spas for All" and "Recovery Retreats" from Spabreaks.com (U.K.). "Spas for All," launched after the 2012 London Paralympics, helps people with diverse disabilities locate the right spas and offers a "Carer Goes Free" program where helpers come free of charge. "Recovery Retreats" help people connect with spas that welcome and offer programming for those recovering from cancer.
OUR "AGING INTO DISABILITY" WORLD
As Bonnie St. John, the first African-American person with a disability to win an Olympic medal in ski-racing (and a Rhodes scholar, TV personality and author), put it so well: "We are ALL aging into disabilities." A spa-lover herself, she is helping to spread the message and wants people to know, "When I go to a spa, sometimes I work with staff to rethink a standard procedure or treatment. Train staff not to be afraid of offending me, to ask lots of questions and to laugh with me. Be open. Disability is a big part of my life. Don't make it sad or depressing."
With life expectancy surging, a massive wave of people with functional limitations from arthritis, knee/hip replacements, cancer, tendinitis and all kinds of tears, fractures and bodily aches and pains, is cresting. Doctors call this ailment constellation "Boomeritis," referring to the generation born between 1946-64, that same high-spending group that fueled the spa industry explosion, and whose oldest members are now entering their later 60s.
Spas already have the bodywork menus to help heal an aching generation, but more emphasis will be placed on tangible pain relief, rather than pampering. And more spas will partner with (or bring on board) physical therapists and orthopedic, chiropractic and sports medicine specialists.
There's a reason some of the busiest spas today have hot springs and thermal baths at their center, and pain-relieving spa bathing will continue to boom, whether at newcomers like Aire Ancient Baths (Manhattan), established players like Blue Lagoon (Reykjavik), Tabacón Grand Spa & Thermal Resort (Costa Rica) or Canada's Scandinave and Le Nordic thermal bath spas—or at locations like the always packed, affordable Korean spas blooming in cities like L.A. and New York.
A few examples of spas attacking the aging opportunity: Willow Stream spas at global Fairmont Hotels & Resorts' (16 locations from Canada to China) signature Stay Active Rx program, with therapies targeted at joint inflammation, aches and pains and mobility. Thermae Bath Spa's (Bath, U.K.) many offerings, like watsu massage (shiatsu in thermal waters), where bodies are stretched and strengthened in warm water—great for people with mobility problems, spinal injuries or multiple sclerosis. The "B. Wellbeing & Spa" at Grand Resort Bad Ragaz (Switzerland) helps both young and old recover, with its rheumatology, orthopedics and rehab menu and team of doctors and physical therapists that soccer and Olympic teams turn to. And U.S. day spa brand Massage Envy (800-plus locations) now features a pain-relieving (using Biofreeze) and flexibility-enhancing "Geriatric Massage." Massage Envy also partners with the Arthritis Foundation and "Healing Hands for Arthritis' in-clinic national events.
FUNCTIONAL FITNESS
We'll see more of the buzzing trend of functional fitness training and more coaching for people with disabilities at spas and gyms.
Unlike conventional gym workouts aimed at building isolated muscles, functional training trains the whole body, in three-dimensional movement, incorporating timing and coordination to improve the balance, force and endurance needed to perform real world, daily activities. (For example: The old bicep curl does not prepare people for catching a railing as they slip down a flight of stairs.)
Functional training uses the same techniques that pro athletes and dancers employ. For instance, plyometrics involves short bursts of power and quick direction changes. Gyrotonics® (created by a professional ballet dancer) incorporates principles from dance, yoga, tai chi, gymnastics and swimming, and involves spiral movements of the spine, arms and legs (often using the resistance of a machine) to build strength, coordination and a range of fluid motions. Other methods that speak to functional fitness: tai chi and chi gong, TRX suspension training, P90X and kettlebell workouts. All are designed to build a stronger body that can cope in a real world—more of these methods will pop up in spas from California (at places like the California Health & Longevity Institute) to China (at locations like the new Iso Fit in Beijing).
For years, perhaps the most ubiquitous spa-marketing image has been that perfect, generic, 20-something woman with hot rocks placed down her straight back. Understandably, spa, like every industry, does aspirational marketing and wants to broadcast what it does to specifically produce optimal health and youthfulness.
But given the fact that billions are aging into disability, and the more focused industry mission of delivering wellness to everyone, more spas will broaden their offerings, messages and mindset to welcome more of the world's real bodies.
One hardly expects every spa to make this a programming focus, but one does expect every spa to be welcoming and accessible. And those that better serve the bodies that exist in the real world stand to profit.
TOP 10 SPA & WELLNESS TRENDS FOR 2013
MORE SPA & WELLNESS TRENDS