Men: From Barbers to "Brotox"
---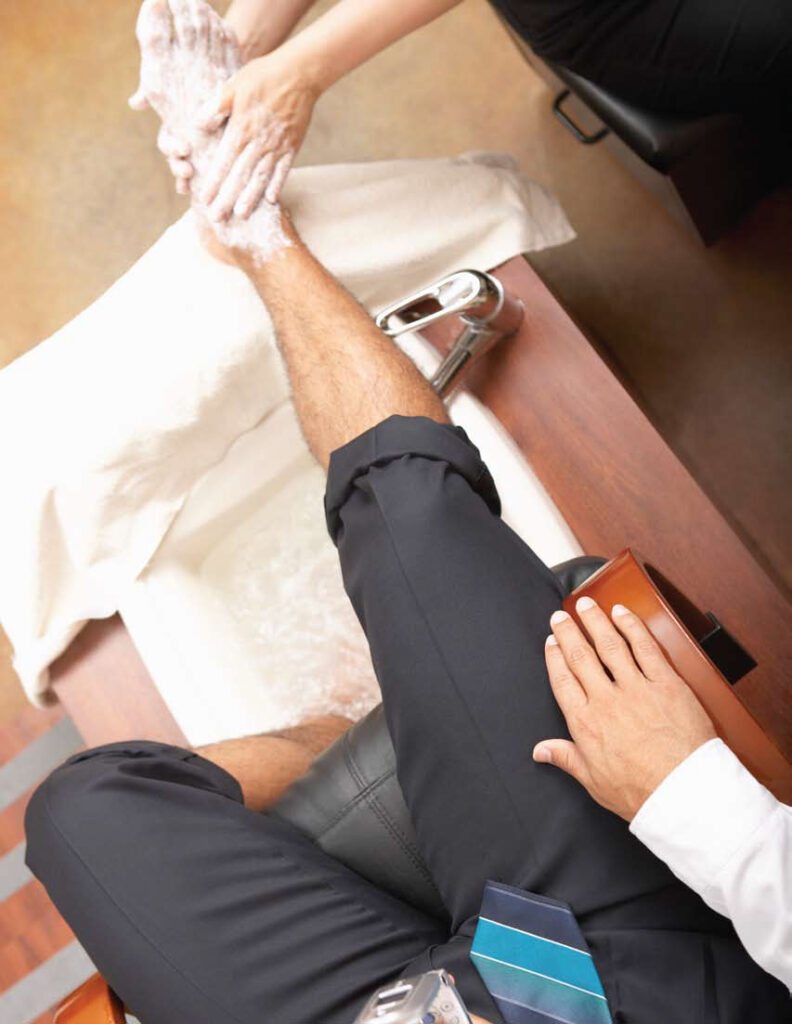 When Spafinder Wellness first identified the upsurge in men hitting spas (Trend Reports 2001, 2005) the focus was on new "macho" spas, where post-golf rubdowns and old-fashioned shaves took place in clubby, brandy-snifting-and-sports-watching environments…aggressively assuaging all fears that "what was going on" had anything to do with feminized beauty. If the spa-man headlines for the last decade have been all about rugged relaxation and rejuvenation, you might say that the big story now is Restylane and Juvederm.
Just a couple years ago the term "metrosexual" (referring to a niche group of men hypermeticulous about appearance) caused knowing laughter, but now the term just feels silly and obsolete. Men globally are spending SERIOUS money on their looks (from head to toe) and the male grooming, skincare and cosmetic procedures markets are exploding. And far more spas are building out comprehensive, for-men "beauty" menus: whether skincare, mani-pedi, waxing and threading services, or more intense work like BOTOX®, fillers and surgeries. And yes, many of these "man-ity" services are still getting played out in spa/med-spa environments with that reassuringly masculine, "guy's guy" vibe and language.
FUELING THE TREND
With the recent recession and ongoing global unemployment crisis, workplace competition is brutal, and men are spending on self-presentation to stay in the game.
Baby Boomers (aged 48-66), both women and men, are the first "refuse-to-age" generation— and they have massive spending power.
Younger male generations are dramatically more comfortable with the concept of male "beauty" and embrace new, higher standards. Consider these U.S. stats: 25 percent of men aged 18-34 have had their nails done, while 20 percent have had a facial (on par with the 22 percent of women in that age group¹ ). As these next-gen consumers move into their peak spending years, male spa/beauty services will only grow.
"Celebrity" standards of good looks and youthfulness are becoming de rigueur for all (not just for women), and celebrity culture is becoming as saturated in China as it is in Chicago.
It's not just more culturally acceptable for men to spend on looking good, it's becoming perceived as a necessity. The only thing eyebrow-raising about it is the trend's sheer power. And if one might imagine this trend would be most powerful in the U.S. (where Hollywood holds court), the data from Asian, South American and European markets tells a different, eyeopening story.
GROOMING BOOMING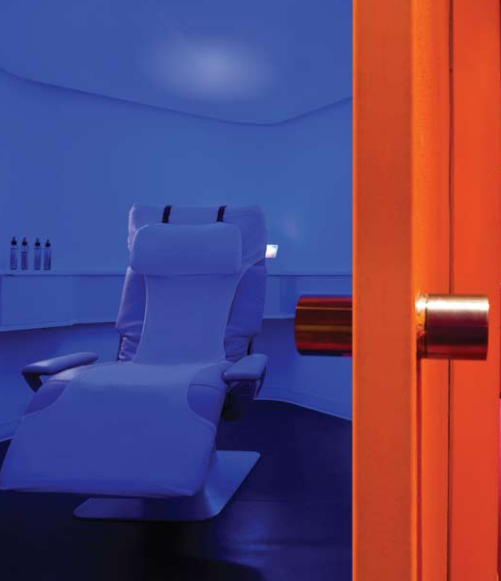 Drugstore shaving cream and aftershave were once the only products found in the most manly-man's grooming arsenal, but now male skincare is the fastest-growing sector in the beauty industry worldwide. Experiencing double-digit growth every year in the last five, it's expected to keep surging through 2016.² All the components from women's skincare lines are getting rolled out in a whole new "shelf" of manfocused products: anti-aging and anti-acne creams, concealers, moisturizers, powders, you name it. Excusive-to-men lines like The Art of Shaving, Menaji or Jack Black keep proliferating, as do high-end, spa product lines like Organic Male OM4 or the Nickel Spa for Men brand's own line.
Men's skincare/beauty products are growing fast in the United States: sales have spiked 18 percent since 2006, and are expected to grow another 23 percent by 2015.³
But look at Asia, South America and Europe. Last year nearly 60 percent of total male skincare/beauty product revenues came from the Asia-Pacific region—with a relatively small army of 19 million Korean men comprising an astounding 21 percent of global sales!4 In India the men's grooming market is clocking 30-40 percent growth annually.5 In China the share men command of total beauty services is approaching parity with women at 38 percent.6
In France, Germany, Italy, Spain and the U.K. men's skincare sales skyrocketed 45 percent from 2005-2010.7 But it is Latin America that is expected to lead all this future global growth, with Brazil alone expected to represent a third of the total men's grooming market by 2016.8

This male grooming obsession is, of course, profitably spilling into spas, salons and all the new, "olde-tyme, barber-beauty" shops. And men are getting far more than facials, they're ordering up more mani-pedis, hair color, threading, eyebrow shaping, eyelash tinting, spray tanning…basically, if it's on the menu, it's being devoured.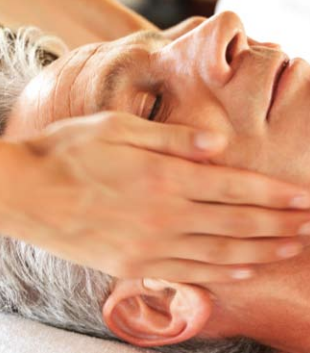 Even territory once heavily reserved for women, like bikini waxing, is now being invaded by males, and it's spawning services (and language) like the "boy-zilian." For instance, Bliss Spas (20+ locations from Barcelona to Hong Kong) introduced a male waxing menu in 2011, and reports that bookings have since doubled (with Brazilians being its most frequently booked service). The marketing copy around the brand's "He-Wax" services illustrates the new comfort and candor, explaining how "taking it down to the bare manimum" can deliver "the fabled 'optical Inch' and 'wax-imize' a man's confidence." And spas report that men like to hit unisex, multi-service spas (like a Bliss), or a "gentleman" spa known for shaves (rather than a waxing-only destination), to keep it on the down-low.
So, many more spas worldwide will now offer more robust, formen beauty services. Examples include the Gentleman's Tonic brand (London, Hong Kong) whose menu spans everything from eyebrow shaping to waxing and Hommage Barber Rooms, which has 11 properties from Bermuda to Macau— and more coming. Hommage is the first luxury barber shop brand-concept where facials, mani-pedis, massages and more are delivered in a private gentlemen's club-like environment located in 5-star hotels. Or consider the incredible lineup of manicure-to-"manscaping," lips-to-lashes services at Canada's Bodé Medi-Wellness spas, with its playfully named treatments like "The Tune-Up," "Liquid Plumber" (facial), "The Hand Shake" (manicure) or "The Sock Destroyer" (pedicure).
And Tom Wilscam, CEO of Hommage, notes, "Hair color, threading, facials, manicures, pedicures, injectibles…they're all becoming much more popular. But with men everything has to be results-driven. It can't fall within the categories of the frivolous or indulgent; it has to be grooming and treatments as a subset of taking care of oneself, and doing what you need to do to remain competitive in the work world."
"BROTOX," FILLERS, NIPS, TUCKS
Spa owners report that BOTOX® and fillers are popular with men, but they have different needs than women when it comes to enhancement. Most prefer subtle, gradual and not too "plastic" results.
Dramatically more men—from Beverly Hills to Berlin to Beijing—are having more serious work done at med-spas and plastic surgery offices as injectables, laser treatments and new surgery technologies make for little downtime and telltale scars. While the top male cosmetic procedures vary globally, growth across numerous global regions is similarly jaw dropping.
A few market spotlights: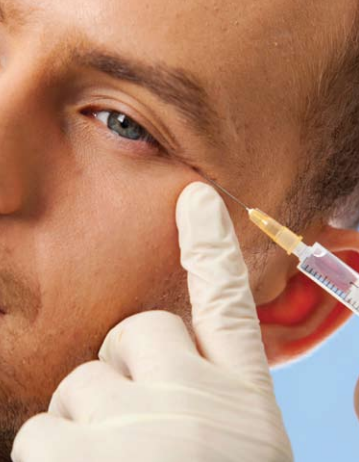 In the U.S. men now represent roughly one in 10 cosmetic procedure patients. The top less-invasive procedures: BOTOX®, laser hair removal and microdermabrasion. The top more -invasive: Rhinoplasty, eyelid surgery and liposuction. The number of American men getting BOTOX® has surged 258 percent in the last decade.9  In Germany, the number of men opting for cosmetic surgery has more than doubled in the last five years, making one in every five current patients male. Top procedures: eye-lifts, nose-jobs and tattoo removal.10Almost half (47 percent) of all people having cosmetic surgery in the United Arab Emirates are men, with body contouring/liposuction and face/neck lifts most popular.11Diverse Asian nations are experiencing serious growth, particularly (for both men and women) the procedure involving clipping the skin around the corners of the eyes to make them appear more round. While the gender breakdown for China apparently doesn't exist, it has become the third largest cosmetic surgery market (behind the U.S. and Brazil). Operations are doubling every year,12 fueled by the growing celebrity/media culture, and the obsession with getting that star or starlet's looks.Korea is undergoing a plastic surgery craze, and men are right in the thick of it—leading to more men-only clinics and more existing clinics launching dedicated centers for men. For instance, men can get a little "Gangnam Style" on at Man + Nature, a four-story, males-only plastic surgery center in the toney Gangnam region of Seoul, crowded with other high-end plastic surgery centers, spas and salons.
Men, many med-spas report, have different needs than women when it comes to all this enhancement, particularly in the West. They demand subtle, gradual and not too "plastic" results. You know, smooth out some lines, but keep me ruggedly handsome…if I'm 60, make me look permanently 45, but not a farfetched 25. Hence, a recent article in The Hollywood Reporter13 noted that man-stars now admit that "BOTOX® is now no more unusual than toothpaste" in Tinseltown, and that there are a lot of "liquid face lifts" (fillers) going on, to avoid the obvious "before" and "after" epiphanies and photos.
Nicolas Ronco (owner of Manhattan's pioneering "napping spa" brand, Yelo, and manager of Nickel Spas for Men in Paris, London, NYC and San Francisco) reports that "BOTOX® and fillers are just killing it with men…and while I don't see male BOTOX® parties taking off, they're quite comfortable talking about it today." And Ronco argues that the bottom line for beauty trends of any type now is: "Women initiate the trend, gay men quickly follow suit…and it then takes roughly two to five years for straight men to adopt it."
So, if men seek to keep people guessing—did he, or didn't he?—the data speaks loud and clear: He probably did. And because the privacy, supportive atmosphere and multidimensional wellness/beauty identity of spas/med-spas makes them extremely appealing (whether for facials or facelifts), it's a major industry opportunity. Men will continue to be the fastest-growing beauty services and med-spa market of the future…that is, until they catch up.
TOP 10 SPA & WELLNESS TRENDS FOR 2013
MORE SPA & WELLNESS TRENDS