Color Self-Expression
---
Beauty has taken a bold, theatrical turn of late, with the old "Barbie-doll prettiness"—a "healthy glow," natural highlights, a dab of lip gloss and a French manicure—under radical revision. In 2013 the envelope-pushing trend will only intensify. And from hair to nails, this beauty "self-expression" wave will get most intensely played out around COLOR.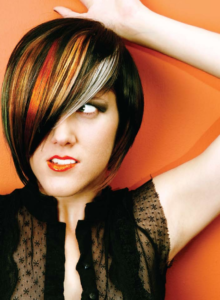 Yes, dramatic color has been surging, but despite predictions that it will surely wane, it looks to be an irrepressible, endlessly self-reinventing force. So, look for even more color washings of hair and face (in in-your-face shades)—more body art hitting bodies of every gender and age (even performed at new "tattoo spas")—and technicolor nail designs as painstakingly rendered as the Sistine Chapel's ceiling. Subtler aspects: a powerful rise in skin brightening and lightening products and treatments.
FUELING THE TREND
Color is easily "applicable," and given the ongoing tough economy, a whole lot of selftransformation can get painted on for relatively few bucks.
With a brutally competitive, global celebrity culture (out-Gaga-ing each other), new colorfashion headlines spawn daily. If all this playfulness in color speaks to the age-old, boredomfighting desire for the new, that desire is now being whetted at a frantic pace.
Beauty trends are increasingly emerging from the street and young generations (as well as globally via social media/blogs) vs. runways or glossy magazines.
The trend illustrates what seems to be a new cultural comfort with pure artifice: using all the tools and technology available to become any person (with any color skin or hair) you want…even if it's not a real "person," but, say, Hunger Games' all-pink-violet Effie Trinket.
The trend pushes mere makeup or manicures to the status of self-as-art, where hair, face, body and nails are easels for creation. The last line of Stephen Sondheim's "Sunday in the Park with George," "A blank page…so many possibilities," neatly encapsulates it. And spa/beauty businesses and brands are expanding their own possibilities: If they have typically led with the "natural," more now have their ear to the street, and are embracing these diverse, lucrative color art services.
THE HAIR RAINBOW
Hair once meant blonde, red or brown, but the recent color shake-ups will keep ramping up. Ombré, or "recession hair," moving from dark roots to light ends, has been around, but is constantly evolving to include gradations to blue, pink, purple, you name it; while dip-dyed ends and clip-in extensions in rainbow and pastel shades are also big. And it's not just for the young: 79-year-old American comedienne, Joan Rivers, for one, recently rocked pink highlights.
Expect every permutation to get flipped on its head (and then again): Like reverse ombré, with wild root color gradating to natural ends. Expect more hot products like hair chalking, which comes in every shade and allows for instant, temporary color transformations. And look for even more extreme colors and products from trendsetting companies like MANIC PANIC™ (New York)—and for far more spa-salons like Hush Hair and Beauty (U.K.)—to serve up this new "hair painting" next year, in colors/techniques once unthinkable.
THE FACE FRONT
On the cosmetics side, expect far deeper, more radical pigment, showing up in unexpected places: whether jewel-tone, neon or peacock-hued eyelashes; blue, purple, red and emerald (Pantone's 2013 "Color of the Year") eye shadow/liner; or intense pink and orange lips. Makeup based on the vibrant colors of India is rising: Chanel and Clarins recently launched Indian-inspired lines, the latter releasing its own "kajal," a heavily pigmented, creamy eyeliner that Indian women have worn for centuries. And if brands like Illamasqua and MAC have been long-famed for their edgy pigment-play, now spa brands like Mineralogie or La Bella Donna (more known for natural neutrals) are incorporating more out-there color.
BODY AND FACE ART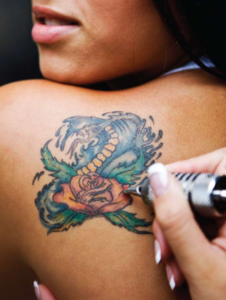 Body art has become a mainstream beauty market, and tattoos are essentially a rite of passage for young urbanites. (Consider: Roughly one in three Americans aged 18-25 have tattoos, and roughly one in three people overall in the U.K. do as well, including 67-year-old actress, Helen Mirren.) Once carried out in sketchy backroom "parlors," we'll now see more combo haute spa/body art studios, and more spas with body art on the menu. One example of the new "tattoo spas": Friday Jones at Senses NY Salon & Spa (Manhattan), run by a "couture" tattoo artist with a heavy celeb clientele. On offer: A massage before your inking, painlessness guaranteed by vicodin and anesthesia (they have partnered with a doctor) and new designs like subtle, white tattoos. Temporary and henna tattoos will keep raging, especially with teens, at more spas like Grand Wailea and Aulani Resort (Hawaii, U.S.).
Body art is also innovating beyond big-commitment tattoos. For instance, there is the new "face lace" pioneered by U.K. makeup artist, Phyllis Cohen: applique-stickers creating a delicate tattoo effect. Christian Dior recently released 24-carat temporary gold tattoos simulating jewelry, while Violent Lips/ Eyes has rolled out lip and eye transfers in glitter, animal, floral and fishnet patterns.
SKIN TONE CONTROL
Taking control of your skin tone is a major (if much subtler) global trend. For one, concerns about skin-cancer-causing tanning mean more people will opt for the pale look, or choosing spray tanning over tanning salons. For instance, in the U.S., tanning salons have recently clocked negative growth, whereas spray tanning is one of the ten fastest-growing industries.1 And many more countries are regulating—or like Brazil, banning—tanning beds.
Products/treatments that "brighten" skin, and attack sun damage and dark spots, are a massive skincare trend for people of many colors. This in part reflects the realities of an aging global population: A recent survey of Baby Boomer women (over 45) found that two of their biggest beauty concerns are age spots and uneven skin tone.2 One spa example: ESPA's signature Skin Brightener Facial at global spas from The Malvern Spa (U.K.) to the Peninsula Tokyo. More spa brands like AmorePacific, Éminence, Kahina, Kirsten Florian and Repêchage now have products to attack hyperpigmentation, while Korres, SK-II and Clarins are all embracing brightening.
Across Asia, where fair skin is the beauty ideal, the skin lightening market is a staggering US$13 billion.3 (Lightening products represent 70 percent of the total Chinese skincare market.) While the internalized belief that lighter skin is superior to darker is NOT what one means by "color selfexpression," it's certainly a choice being made by billions. A positive development: Far more beauty brands (from Benefit to YSL) are developing so many more, and better, skin and makeup products for the full spectrum of the world's actual skin tones. And with people of color prone to greater hyperpigmentation, brands like Dr. Nick Lowe and Darphin are launching products that fade pigment-producing melanin. This welcome trend will only surge as the global population becomes less "white." And the language will continue to move to "brightening" and "fading" and away from the racially freighted "whitening."
ART GALLERY OF NAILS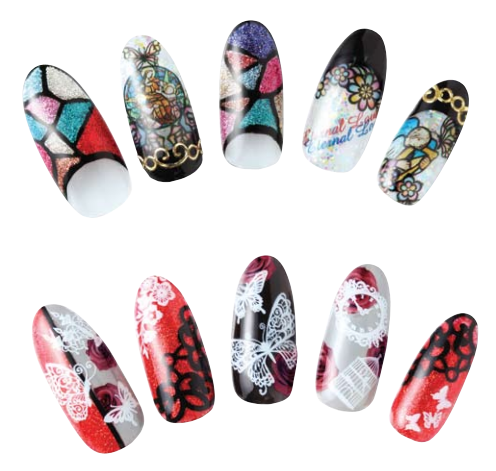 Nail art, unbelievably, is only ascending. We've seen endlessly rococo looks these last couple years, and new inventions like magnetic, rubber and even mood-changing polishes are appearing. Look for: Less bling-for-the-sake-of-bling and more subtle, clever and truly high-art effects. Nuanced textures/designs are everywhere, whether basket weave, 3D, velvet-like or hologram. Nail artists are now rendering amazing, freehand mini-paintings on each digit. That most staid of looks, the French manicure, is even being remade in reverse ombré mode: with light tips fading into darker/vibrant color. And the old corner "nail salon" is being reimagined in incredibly trendy, serious-art ways. Take the new Fingerbang, a pop-up "nail bar and beauty boutique" which stages "nail art events" in art galleries across Berlin. They don't just work with "traditional urban nail artists" but also "illustrators and designers."
Nails now make headlines, whether athletes sporting elaborate patriotic designs at the recent London Olympics or Michelle Obama flashing blue nails during the recent U.S. presidential campaign. There is actually an agency (Nailing Hollywood Management, Inc.) that represents the "industry's most prominent, celebrity nail experts." The global nail blogosphere is raging: With sites like the U.S.' Miss Ladyfinder, the U.K.'s WAH Nails or The Illustrated Nail, and Australia's Copy That, Copy Cat, one-upping each other daily with mind-blowing, micro-artistry creations… and they have big followings. As well, fashion designers now have celeb nail artists (like NYC's Fleury Rose or London's Sophy Robson or Andrea Fulerton) design awe-inspiring "looks" to match the clothes.
TOP 10 SPA & WELLNESS TRENDS FOR 2013
MORE SPA & WELLNESS TRENDS