The Mindfulness Massage…and More
---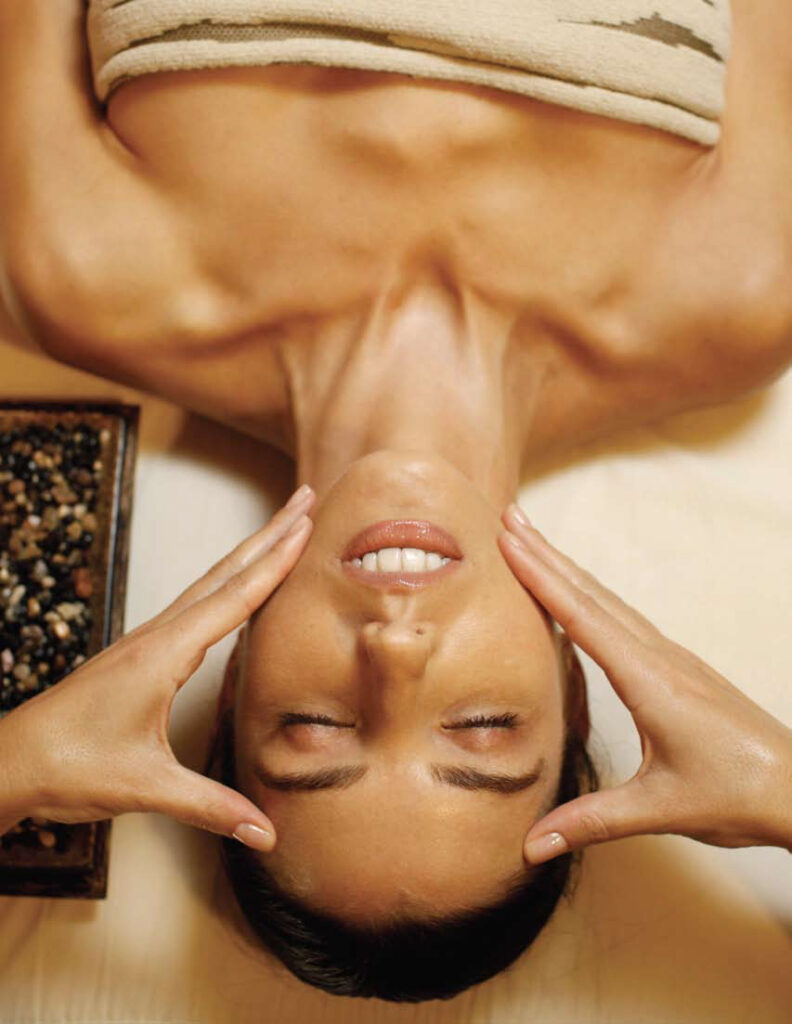 Swedish, Thai, shiatsu, hot stone…make way for "the mindfulness massage" in 2013, a creative blend of two effective approaches—mindfulness techniques and bodywork—that when combined can have a uniquely positive, profound impact on people's stress levels, emotions and brains.
This new massage "mix" addresses the wellbeing of both body and mind, and because it helps people relax more quickly and deeply, it's a highly desirable solution for anyone who has lain on a massage table, unable to shut off the brain-chatter from the stresses of the day.
Also look for significantly more mindfulness, meditation, positive psychology and mental wellness programming on global spa and fitness center menus next year, in general. Because, as Jeremy McCarthy, director of Global Spa Development and Operations for Starwood Hotels & Resorts, recently, perceptively noted, if the last decade was all about "happiness," the next will be "all about mindfulness."¹
Fueling the Trend
Modern stress levels are nothing short of insane (and aren't going anywhere), and people need new coping solutions. Because "the mindfulness massage" combines two powerful stress-fighting weapons, it's an enlightened massage whose time has come.
Cutting-edge neuroscience research reveals that ongoing stress-reduction and mindfulness therapies can actually re-wire people's brains to become less anxious, happier, more focused and even more creative. Neuroplasticity, and what can galvanize positive brain changes, is one hot topic.
Spas and fitness centers have focused almost exclusively on the body and physical wellness, but now more are realizing their opportunities in mental wellness (and, of course, that the two are always intertwined.) To create stronger guest connections, more spas know they must tackle guests' emotional/psychological health, provide tools that help them feel, think and act better, and even give their lives deeper meaning.
Culturally, an interest in mindfulness applications is surging. We hear of mindful eating and parenting, and the bestseller A Mindful Nation (by U.S. Congressman Tim Ryan) even argues it would be a great benefit to the U.S. if the practice of mindfulness was taught in schools, the military and in businesses.
How "The Mindfulness Massage" Works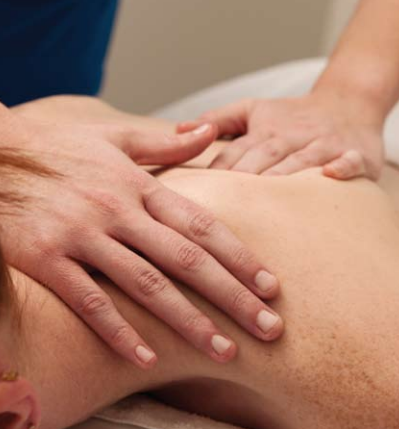 Mindfulness, as defined by expert Dr. John Kabat-Zinn (founder of the Center for Mindfulness, University of Massachusetts), is "paying attention in a particular way; on purpose, in the present moment."
The way spas design their mindfulness massages will likely be unique, as the concept lends itself to an "open source code." But, essentially, core techniques of mindfulness-based stress reduction will be woven into the massage experience, to help people "get out of their head" so that the full, present power of the bodywork and the mind-body connection can be experienced. Key components: breath work, guided visualization, the "body scan" (where attention is brought to every part of the body and the movement of the therapist's hands), and other simple, effective techniques that heighten mental and bodily engagement. Even practices like Tonglen, the "breathing in" of the suffering of others and the "breathing out" of happiness towards them, could be adapted.
And, most importantly, this is a two-way symphony directed by a trained-in-mindfulness therapist, who is NOT thinking about how to spend their tip, but is practicing what she is teaching. Not only will the therapist offer guidance on how to take the massage to a new "mindful" level, but she will also need to be 100 percent present, focused and mindful of every action/move she makes.
Examples: Fitness/spa clubs in the U.K. called The Third Space have already been offering "Mindful Massage," as has One Wellness (Canada) under its "Pathways to Engagement" menu. And look for some high-profile debuts in 2013. For instance, ever-innovative Miraval (Arizona, U.S.), which brought us hot stone massage, will launch its signature "Miraval Mindful Massage" in January. (Mindfulness has always been at the core of Miraval's vision, driving programming like The Equine Experience™ and outdoor "challenges.") Forged by star therapist Wayne Blankenship, Miraval's new massage will take guests through a guided experience incorporating deep breathing, visualization, grounding to natural elements, thermotherapy, craniosacral therapy and Chi Nei Tsang abdominal massage. As with all mindfulness massages, the goal is to take people to an intensely relaxing place—a far cry from the typical "mindless" lying on a table. Miraval will also teach stress-reduction processes people can employ daily, and its recent book, Mindful Eating Miraval, and upcoming one (2013) Mindful Living Miraval, will also help bring this mindfulness training home.
The Science Behind the Massage & Mindfulness Merge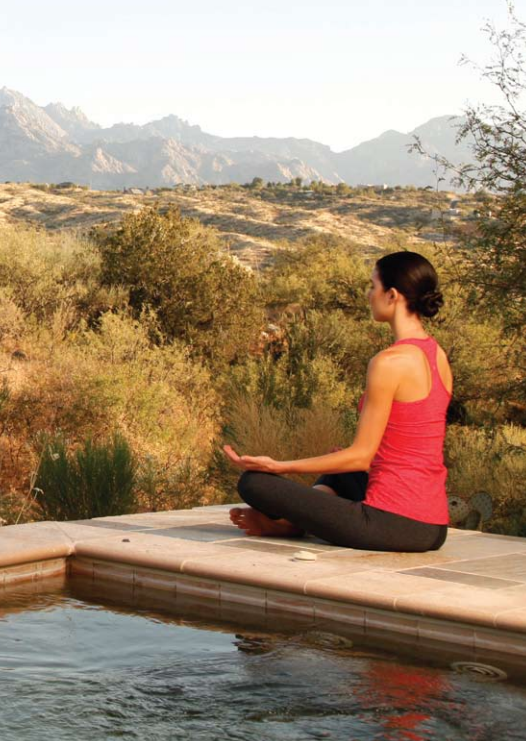 Medical studies reveal why the massage/mindfulness cocktail could be so potent. Clinical trials show that massage can lead to significant decreases in stress hormones and an increase in white blood cells that fight disease. And the growing scientific literature on mindfulness indicates its positive impact on stress, depression, ADHD, addiction and eating disorders as well as protection against the shortening of telomeres (See trend: "Spa-Genomics") to forestall cellular aging. (See SpaEvidence.com for the mounting evidence on massage, stress management and meditation.)
Numerous neuroimaging studies show that mindfulness can decrease activation of the amyglada, the brain's stress response driver, while also enhance activation of the anterior cingulate and prefrontal cortex, known to improve attention and regulate emotion. Ongoing practice can even create positive structural brain change (i.e., neuroplastic transformation). So, with mindfulness + massage you essentially have two discrete forces attacking stress, and a force that empowers cognitive functions like mental concentration and memory, while positively impacting mood.
As Dr. Daniel Friedland, President-Elect of the American Board of Integrative Holistic Medicine and Founder/CEO of SuperSmartHealth, put it: "By integrating mindfulness with massage, clients will not only reduce stress during the treatment, but by engaging in the ongoing component of mindfulness, they may also experience the benefit of brain changes that enable them to become more resilient in coping with stress on an enduring basis."
More Mindfulness & Meditation Programming
Beyond this creative new massage, more spa and fitness businesses will roll out more mindfulness and meditation programming in general. (Whether realized through local partnerships with practitioners, or by bringing meditation and psychology professionals on staff.) Meditation and mindfulness are, of course, hard concepts to differentiate. One difference: mindfulness can be practiced anywhere, whereas meditation is generally a technique for practicing mindfulness in a more structured setting. Roughly one in five spas currently offer meditation or mindfulness programming.2 And more will launch dedicated meditation classes in 2013, like the Scarlet Hotel (U.K.) or the Exhale MindBody spa chain (18 locations U.S. & Caribbean). And more spas will create sequential packages like "Meditation and Massage Journeys," for example, an hour of each, backto-back.
And look for more spas to follow leaders like Mii Amo Spa at Enchantment Resort (Arizona, U.S.) with their creation of full-blown mindfulness training menus…from "Integrative Breathing" to "Compassionate Communication" classes.
More spas will put unique spins on mindfulness. For example, the Spa at Colonial Williamsburg (U.S.) offers unique "story" creation meditation. And The Spa at Mohonk Mountain House's (New York) weight loss program, "Never Diet Again," utilizes meditation and visualization—and is designed by resident PhD in Psychology, Nina Smiley, co-author of the popular book, The Three Minute Meditator, which clearly explains the science behind, and the "how-tos," for mindfulness practices.
Expect more positive psychology and mindfulness "touches" throughout spas. Like Starwood Resorts' (900 properties globally) signature "Heavenly Spa Massage," where guests select a Hope, Love or Gratitude Stone, and are then guided to think about these meaningful concepts during the treatment. More spas will have inspiring, positive psychology imagery/ messages peppered throughout facilities. And more will use tools like gratitude journals, or, like Indian Springs Resort & Spa (California), feature "gratitude trees," where people hang messages about what they're thankful for.
Mindful Fitnes
More fitness centers will launch mindfulness-based training. For instance, forward-thinking Equinox gyms (55+ locations Canada, U.S., U.K.) have unveiled an entire "Conscious Movement" menu, featuring numerous fitness classes and educational workshops specifically focused on mental engagement, breath work and the "quality" of movement.
"By integrating mindfulness with massage, clients will not only reduce stress during the treatment, but by engaging in the ongoing component of mindfulness, they may also experience the benefit of brain changes that enable them to become more resilient in coping with stress on an enduring basis."

Dr. Daniel Friedland, President-Elect of the American Board of Integrative Holistic Medicine and Founder/CEO of SuperSmartHealth
Spas as "Creativity" Labs
Neuroscience, again, shows that stress is a top threat to the brain's "innovative thinking" centers, and that mindfulness and meditation can cause powerful gray matter alterations that improve memory, concentration and other cognitive processes. (One University of Pennsylvania study revealed that long-term meditators exhibit significantly higher cerebral blood flow in brain structures.) So, meditation/mindfulness, essentially, can work to create peak performance thinking and creativity conditions.
That's probably why some of the hottest business executive coaches are suddenly mindfulness experts. Steve Jobs has been a huge force here: when he passed away the world learned of his Zen "Circle Meditation" practice and the impact it had on his innovation, products and success. There are new books like The Zen of Steve Jobs and Zennovation, which argues for "an East-West approach to business success." And news articles have reported on how places like the Kannon Do Zen Meditation Center, in the heart of Silicon Valley, are attracting many technology execs and entrepreneurs.
So, while spas have typically been imagined as places where one escapes from thinking and "work," those that offer stress reduction and mindfulness menus could increasingly be re-perceived as places where problem-solving and innovation could get accomplished. And while this remains a mostly unleveraged opportunity (and predictive trend), already more spas like Spa Village Resort Tembok (Bali) are incorporating more creativity programming, and using mindfulness techniques like guided meditation to get the juices flowing.
TOP 10 SPA & WELLNESS TRENDS FOR 2013
MORE SPA & WELLNESS TRENDS
Most recent from Living Well