Healthy Hotels
---
The very concepts of a "vacation" and business travel have long been associated with riotous excess: too much eating, drinking and too little sleep in the stately pleasure palace that is a hotel. This century-old model has left too many travelers less healthy when they check out than when they check in. But, with a global stress and chronic disease epidemic intensifying—and more people stressed out 24/7—what constitutes a true "vacation" and "hospitality" is now being rewritten. In 2013 (and beyond) far more hotels will serve up health-focused guest experiences and "wellness everywhere" environments bent on delivering much-needed revitalization for people who simply can no longer afford "the old travel."
If the gym and spa have traditionally been positioned as mere "amenities" (locked up in the hotel basement), now those walls are being conceptually (and literally) broken down. And this healthy hotel trend takes diverse forms: from the rise of wellness-branded hotel chains, to far more fitness, spa and healthy eating and sleeping programming percolating across so many more properties.
FUELING THE TREND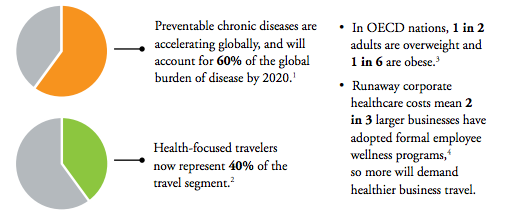 WELLNESS BRANDED HOTELS
More hotels are now branding (and rebranding) around expanded wellness offerings. A first-mover was Westin (231 global properties) with its multifaceted (and heavily branded) wellness menu spanning everything from its "Heavenly" beds, "Heavenly" spas, SuperFoodsRX menu and "Westin Workouts." Now on offer: in-room and free-to-borrow workout gear and the "RunWestin" program featuring guided jogs with "Running Concierges."
And InterContinental Hotels Group is about to take the wraps off its "all-wellness" brand EVEN, revolving around "the four pillars of a healthy life: eating right, exercising, productivity and rest." According to EVEN, notably, the fitness center is "not an afterthought, but the hallmark of the
brand." EVEN guests will experience things like personalized fitness and food regime scheduling at check-in, wellness experts in the gym—and even clever touches like coat racks that morph into pull-up bars. EVEN's first hotel opens in Manhattan in 2014, and the company expects 100 properties in development in its first five years. Interestingly, and certainly with an eye to cost, there's a whole lot of wellness going on, but no spas.
In Europe, with its much stronger, longer history of "healthy hotels," Aspria is one brand to watch. Launched as a health club business in 2000, the brand recently added four urban wellness hotels (Berlin, Brussels, Hanover, Hamburg) where guests can hit the sports club and spa, while eating healthy food at its "vital lounges." If the healthy hotel trend involves a key inversion, instead of the hotel having a "spa" and "gym," the spa and gym essentially now have a hotel…Aspria literalizes the trend.
Environmentally healthy hotels are, of course, central to the trend, as more travelers seek properties taking serious steps to reduce their carbon footprint and water usage. Eco-conscious standouts include UK-based Langham Hotels, India-based Taj Hotels, Asia-based Six Senses Resorts & Spas and U.S.- based Kimpton Hotels. Starwood's eco-chic Element hotels (13 U.S. properties; expanding in Canada, Germany and Oman from 2013-2016) represent an entirely green-focused brand—and the first mandating that all properties pursue LEED certification. Element recently hit a creative eco-fitness connection by unveiling the first exercise cycles where pedaling charges people's cell phones and tablet computers.
REBRANDING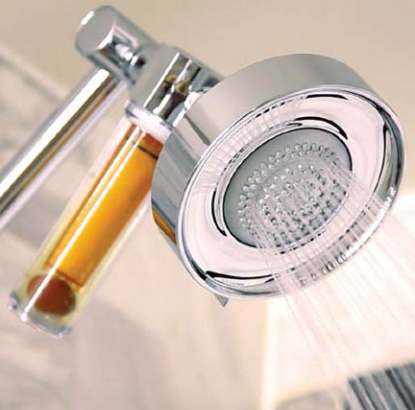 Established brands are now re-tooling around wellness. Take Las Vegas' MGM Grand recently converting numerous rooms into "Stay Well" rooms, packing in 16 health amenities, including: personalized spa menus, wake-up light therapy, air purification and aromatherapy, vitamin C-infused showers and wellness videos from The Cleveland Clinic and Deepak Chopra.
Other rebranding examples include Fairmont Hotels & Resorts' new "Fairmont Fit" program (rolling out to all 80 worldwide properties by early 2013), providing free fitness gear, mp3 players and cruiser bikes—a new, healthy "Lifestyle Cuisine Plus"—with selected properties offering "run clubs" and other group exercise like hula-hooping. Fairmont properties like the Scottsdale Princess (Arizona, U.S.) are taking the health focus even further: Its brand-new, comprehensive "Well and Being" program, directed by the renowned Dr. Tieraona Low Dog, is an integrative medicine lineup spanning everything from acupuncture to cooking classes. Another rebranding move: Healing Hotels of the World launching Urban Healing Hotels for people seeking healthy hotels on city breaks.
FITNESS
Say goodbye to hotel gyms resembling broom closets with a treadmill. Fitness centers are getting vaster, more spectacular, and more are open round the clock. And hotel guests will enjoy more (and more engaging) indoor/outdoor classes and excursions, more in-room workout amenities and more healthy freebies like bikes and pedometers.
The (inexpensive for hotels) "workout in a bag" is catching fire: At select Kimpton, Mandarin Oriental and Sheraton properties, guests can order up gear like yoga mats and fitness DVDs, while many more properties like Affinia Hotels (New York and Washington, D.C.), offer running/walking "tour kits," with iPods loaded with local tours and playlists. Free bikes are becoming common: At London's 45 Park Lane, "bespoke" Brompton bikes are on loan.
In-room wellness amenities are spawning. For example, Westin allows you to book a room with a treadmill or stationary bike, while Hilton Worldwide is now testing "Yoga Rooms" with a dedicated area to practice and mirrors to check poses. And more hotels are partnering with fitness experts to create in-room workout programming, like 45 Park Lane's Matt Roberts-designed fitness programs, which allow guests to continue workouts at home via the hotel's website.
Far more hotels are partnering with local trainers/practitioners to offer classes like daily "boot camps" or "yoga in the yard." Just one example: The Beverly Hills Hotel and Hotel Bel-Air (California) just introduced "Get Fit, Feel Good and Have Fun," designed by fitness guru, Scott Crawford, where guests work one-on-one with coaches leading them through yoga, hikes and horseback riding. The Hotel Palomar (San Diego) is even incentivizing guests to shake a leg: Show them that you've taken 10,000 steps on the pedometer and get 50 percent off your next room.
HEALTHIER FOODS
Finally, more nutritious and customized food/beverage offerings (including gluten-free and vegan menus) are becoming common at hotels
worldwide. For instance, Hyatt's new program "Food. Thoughtfully Sourced. Carefully Served." trims portions and uses more organic ingredients, while Kimpton has partnered with expert Joy Bauer to create healthy, in-room meals under 500 calories. Far more hotels are focusing on healthier food for child guests, like Hyatt's new kids menu designed by organic food pioneer, Alice Waters. And while juice-themed "vacations" have been a destination spa staple, now mainstream hotels like the Four Seasons Biltmore, Santa Barbara (California), are letting guests create their own fruit/vegetable combinations at the centerpiece juice bar, while properties like Travaasa Resorts (Hawaii, Texas) feature juicing classes.
SLEEP HEALTH
The hotel "bed wars" have been waging for years, but now healthy sleep programming is getting more innovative. We're seeing specially designed rooms with features like high-tech, dawn-simulator alarm clocks and "total blackout" technology, so no light from appliances disturbs sleep. Consider London's Eccleston Square Hotel…yes, it has famed Swedish Hastens beds, but it also offers Hastens' "Mind Spa™" relaxation programming, which broadcasts sleep-inducing natural images and sounds throughout suites. Hotel Rio Sagrado (Peru) offers "A Good Night's Sleep," where instructors meet guests in their room for sleep-inducing Yoga Nidra and herbal massage sessions.
SPA BURSTS OUT OF THE "BOX"
More hotels are breaking spa treatments "out" across properties, whether in-room or outside (see "Earthing" trend). For instance, The Aayu Mumbai (India), opening in late 2013, reports that all spa treatments will "be unmoored from a fixed location," and conducted in guestrooms. And more properties, like Four Seasons in Canada, will use "wellness concierges," who map out guests' daily wellness itinerary (whether spa, food or fitness choices) to integrate healthy stays.
LOOKING FORWARD
If the new healthy hotels inch towards programming once reserved for destination spas, they also aim to be more approachable, accessible and affordable (not located on a private lagoon reached by seaplane). They're also clearly not about austerity or mandating health changes, but they do interweave fitness, spa, better food and sleep into meaningfully healthier—if generally shorter—stays.
Not every traveler will embrace the concept, wedded to those endless happy hours and breakfast buffets. But millions globally already demand it, and many millions more will. The health-conscious hotel will become mainstream because, as PKF Consulting's hospitality expert, Andrea Foster, argued at the 2012 Global Spa & Wellness Summit5 , vacations and business travel that make people even more unwell are ultimately irresponsible and unsustainable.
Yes, the taglines and trademarks are swirling. Most hospitality brands are on to it, and, in the West, a small war is set to brew. Skeptics will argue that it's part marketing "game," and anyone would be right to say that no brand has executed its full possibilities yet. But competition quickens the competition, and we expect that offerings will only get more meaningful and smarter. (And we also expect more wellness-branded hotel chains to launch, and in markets like Asia.)
It's still early, but it's one of the most welcome, wide-ranging hotel trends we've seen. And it's poised to transform the very concept of travel in profound, positive new ways.
TOP 10 SPA & WELLNESS TRENDS FOR 2013
MORE SPA & WELLNESS TRENDS