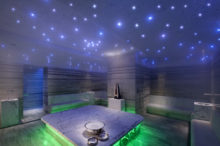 by Spafinder Team | January 28, 2011
The luxurious Mandarin Oriental Las Vegas is quite something to behold and from what I had heard, the spa's authentic, Turkish hammam is the highlight of the 27,000-square facility. On a recent visit to the spa at Mandarin Oriental, I knew I had to give it a try.
Unlike many of today's spa treatments, hammam was historically experienced in the company of others or what we now call "social spa-ing." The Spa at Mandarin Oriental can accommodate groups of five of your closest friends with a hammam party in the comfort of this private treatment area. It's also great for bridal parties.